Maine Roast healthy recipes
Wild Blueberry Chocolate Protein Smoothie
About the recipe
Blueberry dreams are made of this superfood smoothie. Delicate notes of Mocha chocolate and blueberry accompany every sip. Enriched with hearty doses of protein, fiber, Omega 3s and antioxidants. Prep a few in advance for a quick, natural energy burst when you need it most.
Step 1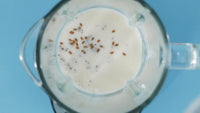 Put almond milk, Protein Coffee, blueberries, flaxseed and ice cubes into a high-speed blender. Blend until smoothie-like consistency.
Step 2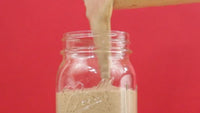 Pour blender contents into a tall glass, then garnish with cacao nibs and blueberries. Enjoy!
Nutrition value*
*Toppings nutritional values not included.
Calories: ~183kcal
Protein: ~18g
Fat: ~7g
Carbohydrates: ~13g
SHOP MR PROTEIN COFFEE
Smoothie Ingredients List
1 scoop
Maine Roast Protein Coffee (Mocha Latte)