Maine Roast healthy recipes
Flu Buster' Immune-Boosting Protein Smoothie Bowl
About the recipe
This protein smoothie bowl is a real nutrition bomb. It features immune-boosting powerhouses like leafy greens, orange, kiwifruit and flaxseed. The vibrant kiwi green color reveals its true flavors – a citrusy sweet paradise in a bowl. The recipe below makes for 2 servings.
Step 1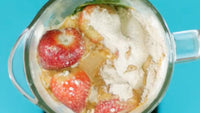 Put greens, Protein Coffee, orange, kiwifruit, flaxseed, greek yogurt and strawberries into a high-speed blender. Blend until smoothie-like consistency (add water if needed)
Step 2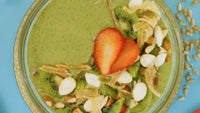 Pour into a medium-sized bowl. Then garnish with chopped almonds, sliced strawberries, sunflower seeds, grated orange peel and candied ginger. Enjoy!
Nutrition value*
*Toppings nutritional values not included.
SHOP MR PROTEIN COFFEE
Smoothie Ingredients List
4 cups
Greens (Spinach & Kale)
1 scoop
Maine Roast Protein Coffee
1 cup
Frozen Strawberries
1 cup
Water (if needed to blend)
Toppings
Pumpkin/Sunflower Seeds (unsalted)
Chopped Almonds
Sliced Strawberries
Candied Ginger (chopped)
Grated Orange peel