Maine Roast healthy recipes
Chia Seed Pudding
About the recipe
A nutrient-rich take on a childhood classic. The Chia Seed Pudding is the perfect low-calorie breakfast or on-the-go snack for the health-conscious. Extra-chocolaty with a fluffy pudding-like texture. Packed with protein, fiber, antioxidants and Omega 3s to kickstart your day on a high note.
Step 1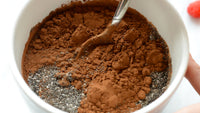 For the chocolate truffle: In a medium-sized bowl whisk together Protein Coffee, chia seeds, cacao powder and milk.
Step 2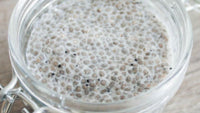 For the chia layer: In another medium-sized bowl mix the rest of the chia seeds and milk.
Step 3
Cover the two mixtures, and refrigerate overnight (they should thicken to a pudding-like texture).
Step 4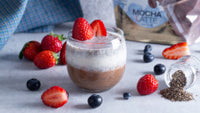 Take mixtures out of fridge and layer accordingly into a serving glass. Top with strawberries (or raspberries) and cacao nibs. Enjoy!
Nutrition value*
*Toppings nutritional values not included.
SHOP MR PROTEIN COFFEE
Chocolate Truffle
1 scoop
Maine Roast Protein Coffee
1 ½ cup
Milk (Almond, Cashew, Soy or Dairy)
Chia Layer
½ cup
Milk (Almond, Cashew, Soy or Dairy)
Toppings
Strawberries (or raspberries)
Cacao Nibs