Maine Roast healthy recipes
Berry Protein Bowl
About the recipe
Whip up this fruity protein bomb for a dose of clean, natural energy. Loaded with a score of nutritional powerhouse foods to cover your daily needs. Rich in quality protein. All wrapped up in one berrylicious flavor you can enjoy any time of day.
Step 1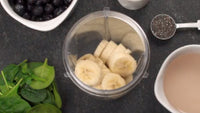 Put the banana, blueberries, spinach, chia seeds, Protein Coffee, strawberries and coconut water into a high-speed blender. Blend until smoothie-like consistency.
Step 2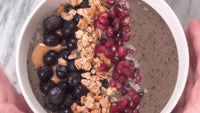 Pour blender content in a medium-sized bowl. Then top with peanut butter, blueberries, granola and pomegranate seeds. Grab a spoon and enjoy!
Nutrition value*
*Toppings nutritional values not included.
SHOP MR PROTEIN COFFEE
Smoothie Ingredients List
1 scoop
Maine Roast Protein Coffee
¼ cup
Handful of strawberries
Toppings
Peanut butter (melted)
Blueberries
Granola
Pomegranate seeds